Months of research went into the creation of the essays in "When Women Wrote Hollywood." Here are some of the resources used to enlighten today's film lovers to the female pioneers who helped create it.
From The "When Women Wrote Hollywood Archives 33: Blood and Sand. Wr: June Mathis, Dir: Fred Fred Niblo, Paramount Pictures, 1922, USA 80 mins.
Juan Gallardo (Valentino), a village boy born into poverty, grows up to become one of the greatest matadors in Spain. He marries a friend from his childhood, the beautiful and virtuous Carmen (Lee), but after he achieves fame and fortune he finds himself drawn to Doña Sol (Naldi), a wealthy, seductive widow.

They embark on a torrid affair with sadomasochistic overtones, but Juan, feeling guilty over his betrayal of Carmen, tries to free himself of Doña Sol. Furious at being rejected, she exposes their affair to Carmen and Juan's mother, seemingly destroying his marriage. Growing more and more miserable and dissipated, Juan becomes reckless in the arena. He is eventually killed in a bullfight but does manage to reconcile with Carmen moments before he dies.

There is also a subplot involving a local outlaw whose career is paralleled to Juan's throughout the film by the village philosopher: Juan's fatal injury in the bullring comes moments after the outlaw is shot by the police. — Wikipedia
---
Buy "When Women Wrote Hollywood" Today!
†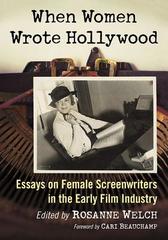 †
Paperback Edition | Kindle Edition | Google Play Edition
Help Support Local Bookstores — Buy at Bookshop.org
* A portion of each sale from Amazon.com directly supports our blogs
** Many of these books may be available from your local library. Check it out!
† Available from the LA Public Library