Watch this entire presentation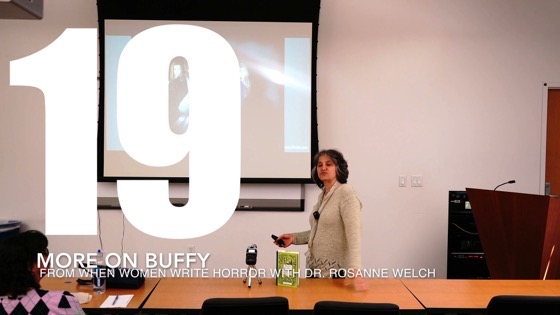 Subscribe to Rosanne's Channel and receive notice of each new video!
In honor of Halloween – and in service to my teaching philosophy —
"Words Matter. Writers Matter. Women Writers Matter."
I presented this holiday lecture "When Women Write Horror" on Tuesday, October 29th, 2019. Researching the many, many women who have written horror stories – in novels, films and television – brought new names to my attention who I am excited to start reading. I hope you will be, too!
Transcript:
Importantly, Jane Espenson eventually went on and created Warehouse 13 which is an adorable little show also in the sort of sci-fi world. Really good show. So I think it's really important to think about everything that Buffy did to throw all the tropes of horror to flip them. So now we have the blonde is saving the world. This rarely happens. The blonde is usually the one who gets dead first right? So not only is she a girl who saves the world she has to be a blonde girl and she has to be a cheerleader because we have to take every single anti-female trope and say "no", there's power in who she is.
Podcast: Play in new window | Download
Subscribe: Google Podcasts | RSS