It was great to be able to attend this year's SD WhoCon in San Diego and present this lecture on "The Difficulties and Delicacies of Writing the First Female Doctor in 50+ years" in which I discuss how successful I think showrunner Christopher Chibnall was in making that transition.
It gave me a chance to talk about the creative work of a showrunner/screenwriter while also reconnecting to some friends we had met at this same convention some 3 years ago – and to talk about one of my favorite subjects – Doctor Who!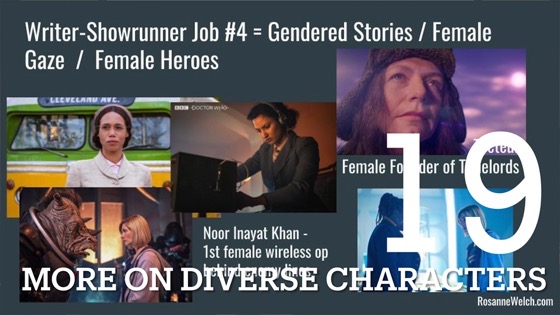 Transcript:
We even had a female Jadoon right? That's like okay I forget – I mean they're ugly elephant rhino characters right but there are females in there somewhere. No one ever mentioned that before. So he's really thinking about it all the way and I've never forgot how cool it was – I had never heard of Noor Inayat Khan, right? I had never heard the story and now I know right? I know that there were women who were doing radio operations and all this stuff in World War II. I wouldn't have known that except he decided to include her as an example of a female hero. So I think he's really going wide to give us these stories and that impresses me.
Watch this entire presentation
Podcast: Play in new window | Download
Subscribe: Google Podcasts | RSS