Nearly two years ago I had the pleasure of being invited to join a panel at the then upcoming SCMS (Society of Cinema and Media Studies) conference set for Seattle.  As you know that was canceled due to Covid with the hopes of reconvening in Colorado in 2021.  That became a virtual conference but our group decided to reapply our panel and we four were able to 'meet' on Zoom on Sunday and present:  Writing Between the Lines: Feminist Strategies for Historical Absences, Cliché, and the Unreliable Narrator. 
Here you can watch a clip from my part of the presentation,
"When Men Forget Women: The Many Ways Male Screenwriters Fail to Mention their Female Colleagues in Oral Histories"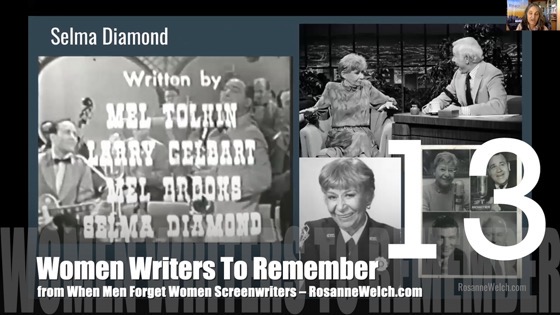 Transcript:
Selma Diamond. Brilliant writer back in the day. We know her more from being an actress on "Night Court" and being on many of the talk shows and Lucille Kallan found a way to stay in the history books because she became a novelist after she stopped writing television and I think she's pretty brilliant. You can see this lovely picture of her. So pictures from back in the day do include the women but that's not the one Vanity Fair chose to publish. She was memorialized a little bit in Neil Simon's play although he took the two women and turned them into one female character. There are seven boys in this play and one girl. They couldn't do two girls and six boys. Just thinking about how they could have arranged that right? They thought they were all the same. Even though almost any female tv writer that you meet will tell you that it was the existence of Sally Rogers that turned them into a tv writer and Sally Rogers is patterned after Selma and Lucille right because "The Dick Van Dyke Show" was the Sid Caesar Show. So the importance of those women disappears in history.
---
Watch this entire presentation
Podcast: Play in new window | Download
Subscribe: Google Podcasts | RSS