With the full recording of "How The Chaos Of Collaboration in the Writers Room Created Golden Age Television"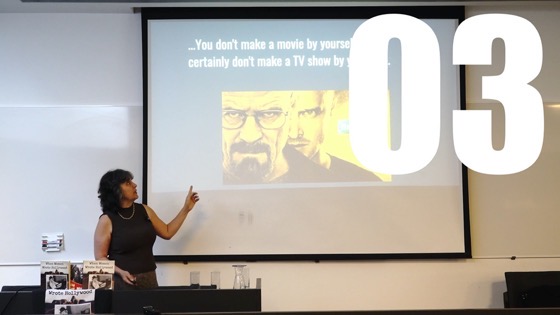 Subscribe to Rosanne's Channel and receive notice of each new video!
When the folks hosting the conference announced their theme as "Screen Narratives: Chaos and Order" the word 'chaos' immediately brought to mind writers rooms. I offered a quick history of writers rooms (the presentations are only 20 minutes long) and then quoted several current showrunners on how they compose their rooms and how they run them.
Transcript
So that's kind of my philosophy. I really don't like the auteur theory and neither do a lot of other writers. This particular quote comes to us from the gentleman who gave us, in America, Breaking Bad, Vince Gilligan. So I want to talk about writer's rooms and his is considered one of the most organized so perhaps the less chaotic but still what happens in the room has its own form of chaos. So I think it's really interesting that he is willing to defend the idea that writers are more important than directors. He's certainly got an Emmy to prove he's an important writer but I appreciate very much what he had to say. The room is about making people as comfortable as possible and this can be a difficult task but it's the task of the executive producer or the showrunner to make sure that the people in the room are open to sharing as many of their interesting ideas as possible right? So chaos but managed chaos. You have to allow for much conversation but you're the one managing what's being said so you don't run off on a tangent and of course Vince was brilliant at that.
For more information on the Screenwriting Research Network, visit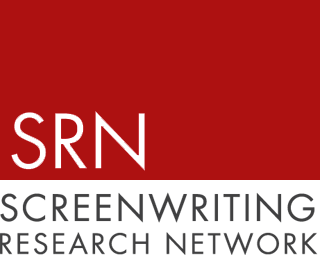 ---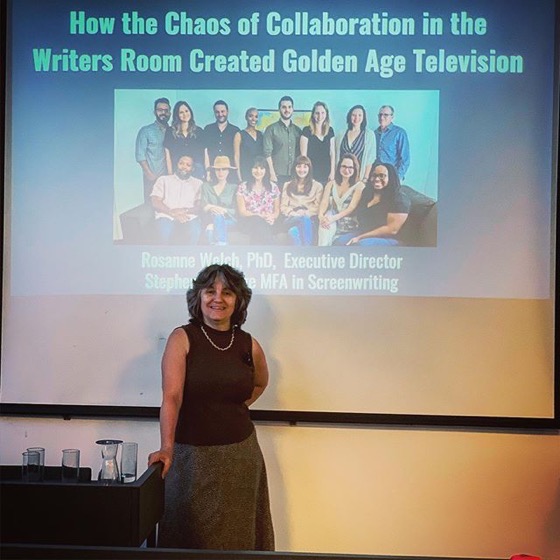 ---
* A portion of each sale from Amazon.com directly supports our blogs
** Many of these books may be available from your local library. Check it out!
Podcast: Play in new window | Download
Subscribe: Google Podcasts | RSS