Nearly two years ago I had the pleasure of being invited to join a panel at the then upcoming SCMS (Society of Cinema and Media Studies) conference set for Seattle.  As you know that was canceled due to Covid with the hopes of reconvening in Colorado in 2021.  That became a virtual conference but our group decided to reapply our panel and we four were able to 'meet' on Zoom on Sunday and present:  Writing Between the Lines: Feminist Strategies for Historical Absences, Cliché, and the Unreliable Narrator. 
Here you can watch a clip from my part of the presentation,
"When Men Forget Women: The Many Ways Male Screenwriters Fail to Mention their Female Colleagues in Oral Histories"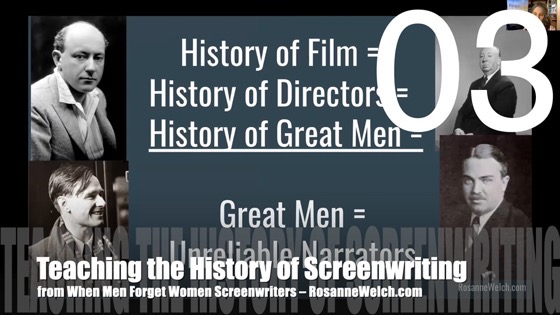 Transcript:
I don't teach the history of film. I teach the history of screenwriting because the history of film equals the history of directors which becomes a history of great men and great men are very unreliable narrators. They just are right? So let's start with directors. Directors are terrible narrators. Alfred Hitchcock in his biographies has said that he learned everything he knew about making movies from a middle-aged American woman. He did not even name her, all right? He did not even name her which means she disappears in history but she was, in fact, Eve Unsell. Eve Unsell had been discovered by Beatrice DeMille, more than the mother to Cecil B. DeMille. She was, in fact, a screenwriter and a playwright and she helped many women get started in the business. Eve became a writer for Famous Players Laskey. She had her own production company – one of the earliest women to have her own production company – and she was so beloved by Famous Players Laskey – they sent her to England to right the mixed up studio they had started there and while in England she trained this young kid named Alfred what's his name again. She told him everything she knew about making films and he can't even remember to put her name in a book about him. That makes me crazy.
---
Watch this entire presentation
Podcast: Play in new window | Download
Subscribe: Google Podcasts | RSS