Nearly two years ago I had the pleasure of being invited to join a panel at the then upcoming SCMS (Society of Cinema and Media Studies) conference set for Seattle.  As you know that was canceled due to Covid with the hopes of reconvening in Colorado in 2021.  That became a virtual conference but our group decided to reapply our panel and we four were able to 'meet' on Zoom on Sunday and present:  Writing Between the Lines: Feminist Strategies for Historical Absences, Cliché, and the Unreliable Narrator. 
Here you can watch a clip from my part of the presentation,
"When Men Forget Women: The Many Ways Male Screenwriters Fail to Mention their Female Colleagues in Oral Histories"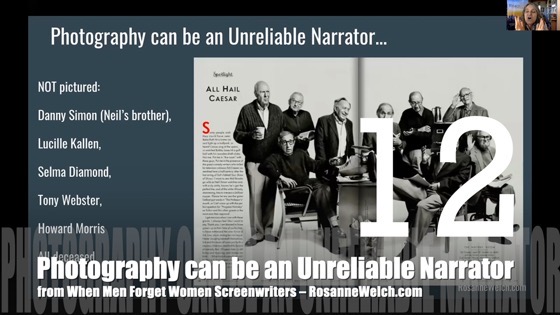 Transcript:
Photography can be an unreliable narrator to us. In this case, this is a famous photo of the writers of the Sid Caeser show. So I've flipped over to tv for a minute. Look at all these important men whose careers went on and on and on but when they took this picture Selma Diamond and Lucille Callan – the two women who were on Sid Caeser shows – had died. So they were not present for this photograph which goes down in history as the picture of the writers of these shows. If you don't read the small print in the tiny bottom corner there you don't notice that unpictured are the only two women that we could possibly credit. Billy Crystal was so excited about this when this happened he helped organize this Vanity Fair gathering. This is the long thing I won't get into but he talks about how much he wants in life he would dream of being in that room and he names all the men and none of the women because he's forgotten they exist right? That photograph allows us to forget that.
---
Watch this entire presentation
Podcast: Play in new window | Download
Subscribe: Google Podcasts | RSS